First time visiting? Consider subscribing or the following:
Posted on | August 19, 2011 | Comments Off on Market Update Aug 19, 2011
Volatility continued this week, but as you can see in the below chart, we haven't hit new lows yet.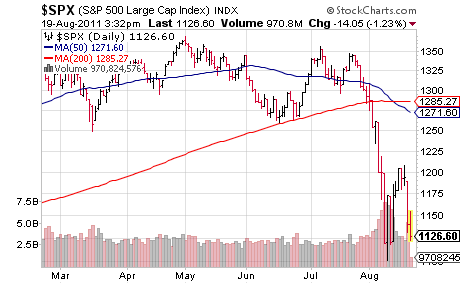 If we break below 1100, we could definitely see the S&P 500 move towards the 1000 level. A bear market indeed.
Let's look at some of our dividend stocks we're watching and how they have performed during this same time.
Walmart (WMT)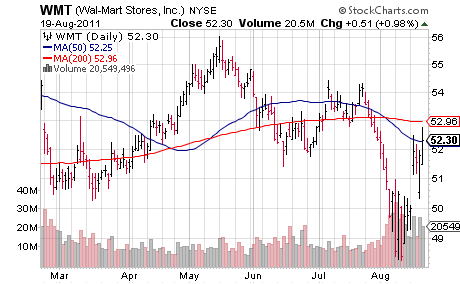 As you can see in the above chart, Walmart moved lower from the $54 range down below $50 with the major leg down, but since coming out with its latest quarterly results, it has been bucking the trend of the market and is above $52.  The sub-$50 level was definitely the buying opportunity - we bought more shares of Walmart despite being overweight in this stock at these levels. I won't add to my Walmart position unless we go below $47-$48.
Microsoft (MSFT)
Microsoft has an interesting chart - the last two months especially.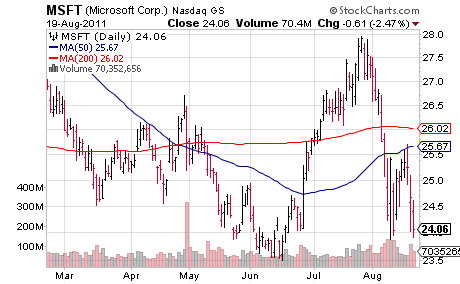 I initiated my Microsoft (MSFT) position around $24 a share two months ago. In a matter of days the stock was shooting higher hitting the $28 level. Since then, it's come right back down with the market and is now trading at the levels we bought at.  No worries.
Microsoft is steady and further declines in the market might bring this stock down in order to buy more. I'll look for more shares in the $20 range.
Philip Morris Int'l (PM)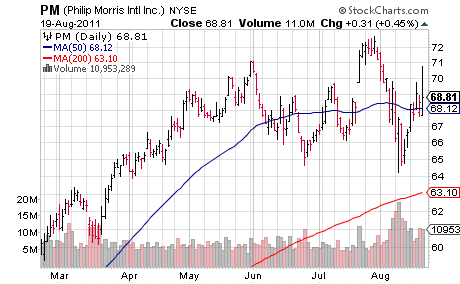 The Philip Morris chart shows little correlation to the overall market movements. You have to be very patient with this one and I still think a much lower stock price here will be very much connected to peak chaos in Europe both politically and economically. When Europe "blows up" that is when you will want to pounce on some Philip Morris stock.  I think you can easily expect to see this under $60 at some point. I'm waiting it out.
More later on the other stocks and the general market…