First time visiting? Consider subscribing or the following:
Posted on | July 1, 2011 | Comments Off
Markets are finishing up a giant week with huge gains throughout the week.  Interestingly, today is also the first day after the conclusion of the Federal Reserve's QE2 program.  How does that fit?  Well, the market has known the end of QE2 would be on June 30th for some time and therefore "priced in" or anticipated the move long ago.  There was never going to be any major move the day after it concluded -  that's not how the market works.
Now, the major catalyst for the move higher this week was likely a combination of an oversold short-term condition and the bailout of Greece.  The market continually loves the "kicking the can" down the road of sovereign debt because it puts off a painful day of reckoning for the most part.  This indeed has helped the markets fuel higher this week.
Taking a look at the following S&P 500 chart, you can see the huge move higher this week: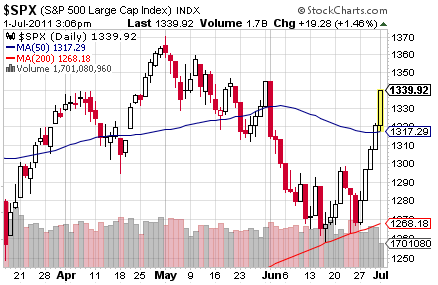 Traders will look for the S&P to hit new highs in the 1370 area before they can claim that the party is back on.  Will we get there?  Maybe.  It doesn't matter.
As we continue to see the market oscillate, we are content to be patient, wait for opportunities and collect dividends.  Microsoft (MSFT) has been a great performing in recent weeks after we accumulated shares in the $24 range.  The stock is now around $26 currently.
Our strategy continues to be to wait for major macro events that we believe are unavoidable to play out, take advantage of short term market fluctuations, and patiently sit back and collect dividends in the mean time - even if it becomes painful to remain patient.