First time visiting? Consider subscribing or the following:
Category: Personal Finance | January 23, 2017 | Comments Off on Managing Debt for the Sake of Cash Flow and Investing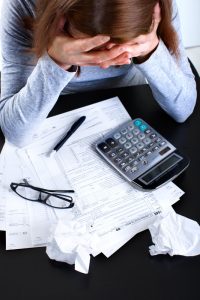 Debt is a dirty word to many people. It requires that you pay money for the privilege of using other people's money. It can tie up much of the income that a person earns. This income could better be used on his needs and his wants. Finance gurus like Dave Ramsey give some great plans regarding how to manage debt. Ramsey and others like the popular personal finance blogger Mr. Money Mustache rightfully claim that debt is actually an emergency akin to "a cloud of killer bees covering every square inch of (his) body."
Debt Is Problematic
Debt can definitely become a problem when you have too much of it. More and more of your paycheck can go toward paying interest on money that you've borrowed. When the debt load becomes too high to handle, people can lose access to credit, and bankruptcy can become a definite possibility. There can be decent uses of debt like buying a home or getting an education that allows you to make more money in the long run. However, most other debt can be a real drain. Here are two major reasons to manage your debt.
Debt Hurts Cash Flow
It's very important to understand cash flow. Income is the money that comes into your pocket. An expense is money that leaves it. If your income exceeds your expenses every single month, this means that you have a positive cash flow. When a family finds itself with a positive cash flow, they have the ability to build up an emergency fund that can alleviate the need for taking on debt to take care of extraordinary expenses.
With no cash flow for building up a savings account, it can quickly become a really big problem when a tire goes flat or a roof needs replaced. These expenses can be even bigger problems without access to credit. A bit of a cushion between income and expenses every month can lead to a greater peace of mind and a more comfortable home life.
Low Debt Allows For Investment
Lower debt payments are positive. The lower a person's debt, the more positive her cash flow is likely to be. After building up an emergency fund, the excess cash flow can then go to investments. When it comes to investing, individuals and families can really start to build up wealth. Bonds and dividend stocks can pay interest or dividends that can add to the positive cash flow.
When you're in debt, compounding interest works against you. A family who takes out a standard 30-year home mortgage of $100,000 at 5 percent interest will pay the bank nearly $5,000 the first year of the loan. A hypothetical borrower one this loan would only pay $120 back on the loan the first month. On the other hand, nearly $417 would go to the bank. That $417 is money that is gone forever and does nothing to improve one's overall financial situation.
When you're investing, compound interest works for you. The excess capital that you can put to work on a monthly basis adds to your net worth. It also improves the overall cash flow for your family. Each dividend or bond interest payment that you receive is actual cash that you can use either to buy more stocks and bonds or to pay monthly expenses like housing, gas, groceries or utilities. The snowball of cash flow and wealth is growing in your favor, rather than in the favor of the bank as is the case with debt.
Manage Debt To Build Wealth Over Time
Managing debt is one of the most important steps that an individual or a family can take toward building up a positive financial situation. Excessive debt can hamper the ability to build wealth over the long term. Those with low debt and positive cash flows can see their wealth and income grow over time through smart investing, and the time to start on this process is now.
Category: Personal Finance | December 13, 2016 | Comments Off on Tips For Saving Money When You're Young

Saving money is not meant to be reserved exclusively for the golden years of one's life. In fact, as years go by, it is becoming increasingly more difficult to have a comfortable retirement savings amount without starting well before you actually retire. With this in mind, saving money while you're young doesn't mean that every penny is held back. Implement a few of these tips now and you can find yourself with an easier time saving throughout your life.
Eating In
Eating out is not as cheap as it used to be. There was a time when having a meal out, alone or with a family, cost about as much as it would to make a nice meal at home. With the rising costs of almost everything, convenience foods and restaurants have started to cost more in kind. Now it is far more cost effective to prepare meals at home rather than to purchase one while you are away. Consider packing a lunch to take with you to work for instance. Doing this saves you considerable money over the course of a month, which can add up to big savings over a year's time.
Out On The Town
As a young person, social engagements are a priority for most. You do not need to skip out on the night with your friends, but it would be wise to consider the ways that you can spend a little less. Most establishments offer a happy hour daily, some of which last for more than just the one hour. Knowing where these places are and what times to get there can really save you some serious money, regardless of how often you and your friends hit the town.
Technology
You might find that when you are researching ways to save your money, articles and blogs might suggest going for the cheaper versions of things that you would otherwise go brand name for. While this is great advice for things like groceries and toiletries, it is actually the opposite for big electronic purchases that will inevitably be made. You will actually save more money in the long run by spending a little more right now. Phones, laptops, tablets and televisions are a few of the items that you really don't want to go second rate for. The reason being is that the more cheaply made and low quality the item is, the less likely it is to last as long as its higher end competitors or offer the functionality that you actually want. For example, Lenovo makes high quality computers. Spending your money on a product that is deemed among the best means a long standing warranty and the lesser likelihood of spending more money replacing the product before you are personally intending to upgrade.
Snip Those Coupons
In both the physical world and on the internet, coupon codes are becoming a fast way for people to save really big. Before you make any purchases (for really anything and everything), you should do a quick search to see if there are any available printable coupons or promotional codes that you can use to get a little lower of the overall cost. Sometimes even just getting something shipped for free can be a big difference in the end.
These are just a few ways that you can make a dedicated stand towards saving money while you are young. There are countless ways to keep putting money back for the rainy days or retirement, but these listed options should be a good way to get you started.
Category: Insurance, Personal Finance | December 5, 2016 | Comments Off on How Far Back can you Claim PPI?

PPI or Payment Protection Insurance is protection that is included with mortgages, credit cards or loans. It actually protects your payments for one full year in the event you lose your job, become disabled, or any event that renders you unable to make payments. It is a valuable form of insurance which helps protect loan repayments in the event of unforeseen circumstances.
One of the most common questions with those that have PPI is how far back can you claim PPI? Many people that ask this question have had PPI mis-sold to them and want to make PPI claim from their loan providers. The answer to this question is somewhat detailed since it can be a complex process and it is highly recommended that you consult an expert claims management company to file a claim. They can advise you whether you are actually entitled to a refund even before you file a claim.
There is a 6-year time limit for many PPI claims however this time limit was set by the FOS or Financial Ombudsman Services. This is the amount of time that lending institutions including banks must retain records that are in direct relation to any financial agreement such as a mortgage or loan that you have with them. Those records are kept on file the entire time you are repaying your loan. What people don't know is that only when the loan is repaid or the policy has ended or is terminated does the 6-year time limit come into play. The 6-year time limit is not recognized while a loan is active or being repaid.
If you have an active loan or mortgage meaning you are still making payments the 6-year time limit is not in effect. Only when a loan has been repaid, is inactive or has been terminated is the 6-year time limit in effect. This is one of the most common misunderstandings that many people have when considering how far back they can go to claim PPI.
So the answer to the question how far back can you claim PPI actually depends on the time limit on your loan or mortgage plus the 6-year time limit.
Category: General Investing | November 11, 2016 | 1 Comment

U.S. stocks have been under pressure in the latter days of October and the beginning of November as Presidential election jitters took hold sending the VIX volatility index up 70% since hitting a low on October 25, and experienced its first 8-day rise since 2008.  In fact, the S&P 500 large cap index had its first 8-day slide since October 2008, with many large cap stocks getting hammered.  Earnings have been part of the reason for the decline.  Facebook had better than expected earnings and revenue but their outlook spooked the market.  On share trading also faced increasing yields which moved above 1.75%, following stronger than expected average hourly earnings.
On Friday, November 4, the Department of Labor reported its non-farm payroll report. The 161K increase was slightly less than the 170K increase expected, but it was more than made up for by the revisions from the prior months. September was revised to 191k September gain, with August bumped to 176 from 167k, for a net +44k. The unemployment rate also declined to 4.9% from 5%, which showed increasing jobs gains. The real meat of the report came with wages, which are moving higher and could give the Federal Reserve the ammunition it needs to pull the trigger in December and raise rates.
Average hourly earnings surged 0.4% from 0.3%. Average weekly hours were steady at 34.4. Private payrolls added 142k, with the goods producing sector unchanged, while manufacturing lost 9k, with construction up 11k. Service sector jobs increased 142k, led by education, health, up 52k. Government jobs were up 19k. The U6, dropped to 9.5% which was the lowest since April 2008.
Additionally, it appears that export in the U.S. are improving. U.S. trade deficit narrowed 9.9% to -$36.4 billion in September, from a revised -$40.5 billion short-fall in August. Imports declined 1.3% versus the 1.2% August gain, with exports edging up 0.6% versus 1.0% previously. Excluding petroleum, the trade balance posted a -$31.3 billion deficits, versus -$35.1 billion in the prior month.
The Nasdaq was dragged down by the large decline in Facebook shares following the social media giant's financial results. Although the company beat on both the top and bottom line, their outlook gave investors pause. The company said that they have maximized advertising revenue without reducing the user experience. This means that they will no longer be able to make any incremental growth in advertising revenue.
The shares gapped lower and finished the session following its financial results down 5.7%.  This type of decline is bearish, as those who are long are now trapped, and will likely look to sell their shares if prices retrace back to former support now resistance near the 128 level.  Volume on Facebook shares soared to the highest level of the year, which is bearish on a large down day as it shows many people are attempting to exit their positions.  The only redeeming technical quality is that the shares are oversold and could see a rebound in price action as the RSI prints a reading below 30.
Category: General Investing | October 7, 2016 | 4 Comments

Online trading is the process of buying and selling shares on the internet. There's no need for telephone calls to the broker, although, in some cases, certain stocks have to be bought over the phone!
Historically, the ordinary man on the street would never have thought to buy stocks and shares themselves, always operating through a broker who would have made the investing decisions on their behalf. Whilst the broker still offers these custom services, there's now nothing to stop the average consumer picking and choosing their own stocks to create their own portfolio.
A customer would typically create an account through an online brokerage service and take advantage of the wealth of company information available at their fingertips. Brokerage firms offer lots of choice and information when it comes to trading online. Historical data is also provided along with relevant news articles and specifics on the company activities.
Different ways of trading online
Buying individual stocks
A customer can go online, search for the company they wish to purchase shares in and buy those shares online through a brokerage service. The customer then receives paperwork online or in the post to show that they now own the shares they have purchased. Other options including purchasing bonds and managed funds.
Spread Betting
This is a completely different way of trading online. Instead of buying and owning the share in a company, the customer places a bet on whether a share price will rise or fall.
Spread betting works in this way. The customer decides whether they think the market will rise or fall. They then place an amount on this bet which is usually between 1% and 10% of the expected profit/or loss.
The customer can choose to between two positions – go long or go short. Go long means that they are betting on the market to rise and go short means that they are betting on the market to fall.
Firms that offer spread betting online will set a buy and sell price. The difference between these two prices is described as the 'spread'. The customer decides whether they think the stock will rise or fall and places the bet.
There are a number of companies that offer spread betting online, for example, CMC Markets. Companies like these also offer the opportunity to try spread betting in a simulated web environment before betting with real money. This gives the customer an idea of what is involved in the process and demonstrates how the system works.
There are three terms in spread betting that the customer needs to be familiar with:
Margin – this means that the customer does not have to front the entire value of their position at the time they place their bet. A 10% or 20% margin is usually accepted.
Stop loss – this allows the customer to arrange a guaranteed point at which the loss would stop.
Close out – this allows the customer to close the bet before the expiry date. For example, if the bet is going in the wrong direction, the customer can choose to minimize their losses by closing out before they incur greater costs
This system of online trading is an incredibly high-risk one and customers should not take part without considering the pitfalls as well as the benefits.
There have been success stories highlighted in the news with spread betting. In 1997, a trader made five million pounds trading in this way on the foreign exchange market. However, the losses are not as well reported but often can be equally as high.
The best way to start with spread betting is to start small. £1 per point is more sensible than £10 a point for the beginner. Those starting out with spread betting should also find themselves a good broker, who can offer advice and potentially save them from making costly mistakes.
To summarize, there are opportunities to be gained from engaging in spread betting. However, it is still a high-risk activity that can result in significant losses as well as potentially high returns. Customers should proceed with caution and research as widely as possible.
keep looking »